Artificial bouquets
Each of our unbelievably realistic artificial bouquets is thoughtfully arranged and hand-tied by our team of expert florists. We have colours and styles to suit every taste and space, whether you're brightening your own home or giving them as a lasting gift.
Everything you need to know
Flowers around your home
Buying and constantly replacing fresh flowers is expensive in the long run. If you love colourful flowers around your home but aren't so keen on forking out week in, week out, then our faux flower bouquets are the answer. Not only do they look incredible, but they also last for years with next to no maintenance!
Office flower arrangements
Office flower arrangements can add an inviting aesthetic to a reception area or meeting room but they're often a bit costly and live for a few weeks at most.
Our faux bouquets, however, make sure your office space always looks picture-perfect for client visits or perhaps, to lift your spirits while brightening up your workspace.
Artificial wedding bouquets
A brides' wedding bouquet is one of the essential accessories to a wedding. Artificial wedding flowers let you keep the memory of the magical day alive far beyond the lifespan of a traditional living bouquet without having to faff with drying out the flowers and potentially damaging the fragile petals.
Longer life
Artificial flower arrangements like this can last a lifetime with next to no care. Compare this to a bunch from the supermarket which may last for a couple of weeks at best before ending up in the compost.
Cost
The initial cost of a top-notch bunch of faux flowers may seem a little hefty. But when you compare this against buying and replacing real flowers each week, you'll soon see the positive side of it.
An easier life
Your life is probably hectic enough without constantly picking up dead leaves, cleaning pollen stains off the table and shooing the cat away from your flowers. Going faux is a simple way to make your life easier, and you still get to enjoy the look of fabulous florals.
Allergies
Suffer from hay fever? Join the club! Buying yourself (or gifting) a gorgeous faux arrangement is an easy way to sidestep the sniffles while enjoying all the other benefits lush flowers bring to your home.
Non-seasonal
Fancy a bunch of tulips in September? Or some sunflowers in January? No problem. Artificial flower arrangements don't care about seasonal vibes and are available all year round.
Roses are not green
Did you know cut fresh flowers are either frequently flown in from warmer climates?
For a product that only lasts a few short weeks, it's not overly green. An artificial plant may not seem green, but the unlimited lifespan quickly offsets the cost of creating it. Read more on our introspection blog here.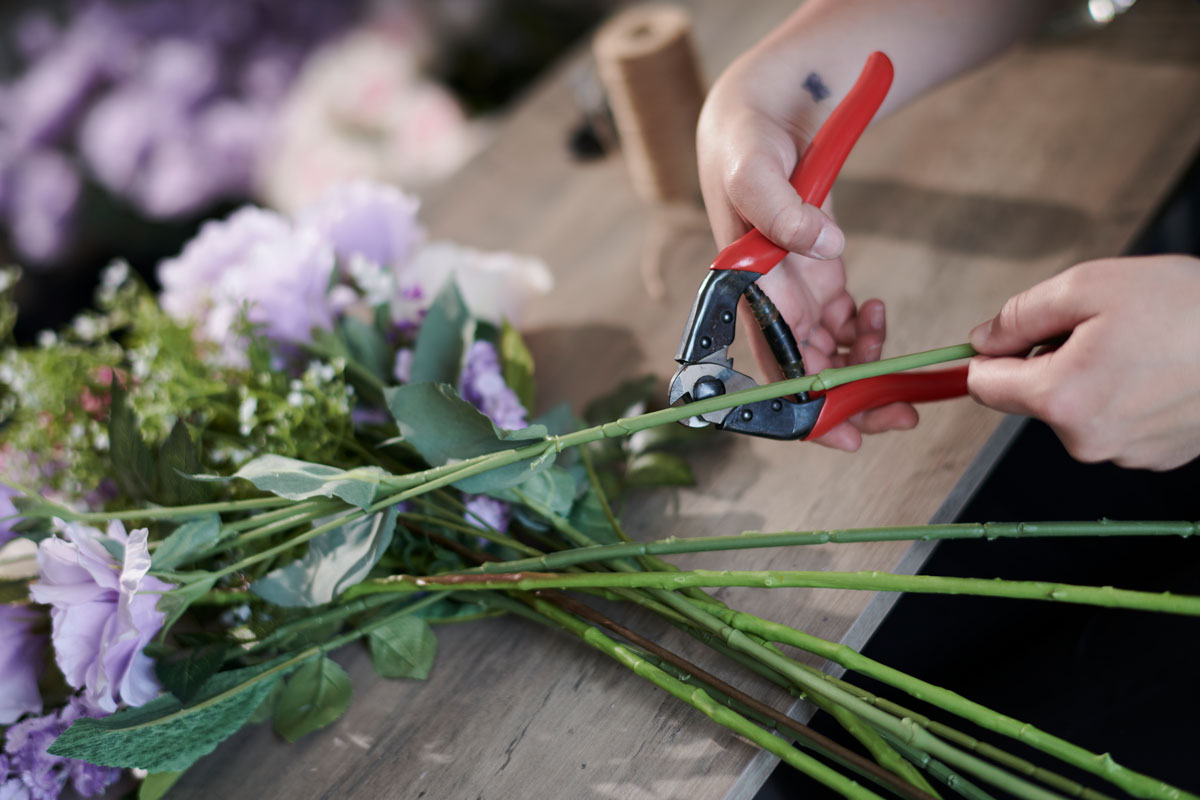 Each stem in your bouquet has an internal wire which is coated in plastic. Depending on the stem, this wire can be fairly lightweight or pretty thick. Thicker wires can be slighter harder to cut.
Measure the height of your vase.
Take the vase measurement and measure from the bottom of the flowers and foliage area towards the bottom of the stem.
Mark the measurement and cut any remaining stem off.
If in doubt, leave the stems a little longer. You can always trim them again.
To cut the stems, we recommend using strong wire cutters. If you don't have any of these to hand use pliers or scissors to score the plastic. Then bend them one way, then the other, which will weaken the wire to the point it breaks cleanly.
Faux flower arrangements are both beautiful and need zero maintenance. However there are still a couple of things you can do to keep them looking fresh for years to come.
Don't use them outside
These flowers may be pretty but they're not designed for outside use. We'd also recommend not siting them on windowsils for long periods of time.
Keep them clean
Dust is the enemy of artificial flowers and is a telltale sign of faking it. Fortunately fauxs are easy to clean with a damp cloth or wetwipe. For the more intricate stems, take the arrangement outside and give them a gentle shake.
If you have some more questions, or you just want to talk through the options, contact us here or give us a call on 0800 9777 589.
Did you know?
Lilies are known to represent fertility and purity.