Sleek and stylish. 🎋
Unique

Low effort

Instant colour
Sleek and stylish, the artificial black stem bamboo is certainly a looker! It's also a great way to create a zen-like atmosphere without the hard work of real bamboo. Enjoy its time-saving colours that can transform a dull corner of your home in an impressive stylish spot.
Read more
Delivery information
Our standard delivery service costs £5 (free when you spend £100 £25 in November) and takes between 2-4 working days. Upgraded delivery services may be available based on your location.
Some locations may cost extra and take a little longer. For more information visit our delivery page here.
Returns
If the product isn't suitable or you simply don't like it, you can return it to us for a full refund.
60 days to return the item to us
You will need to cover the cost of returning the item
Use a courier comparison website to get the best price
For further information or to submit a return request, visit our returns page here.
In the unlikely event that the item arrives damaged, please get in touch with our customer service team.
Caught on camera 📷
Everything you need to know
Some people say bamboo is easy to care for, but those of us with less than green thumbs know otherwise! This beauty makes it easy. There's no need to water or feed it and you'll save money that you'll have otherwise spent re-potting.
As the title gives away, this bamboo tree features black stems and contrasting lush green leaves, making it more unique than others on the market. So, if you're looking to make a statement, whether you choose to put it indoor or outdoor, this is the artificial bamboo for you. ✨
Enhance your space with calming, undemanding colour in no time at all. Simply take it out of the box, choose a corner in your home or garden and enjoy.
The artificial black stem bamboo is available in two sizes, either 110cm (about 3.5ft) or 170cm tall (about 5.5ft). All measurements are taken from the ground to the top of the tree. You can raise the height by popping it in a taller pre-filled pot.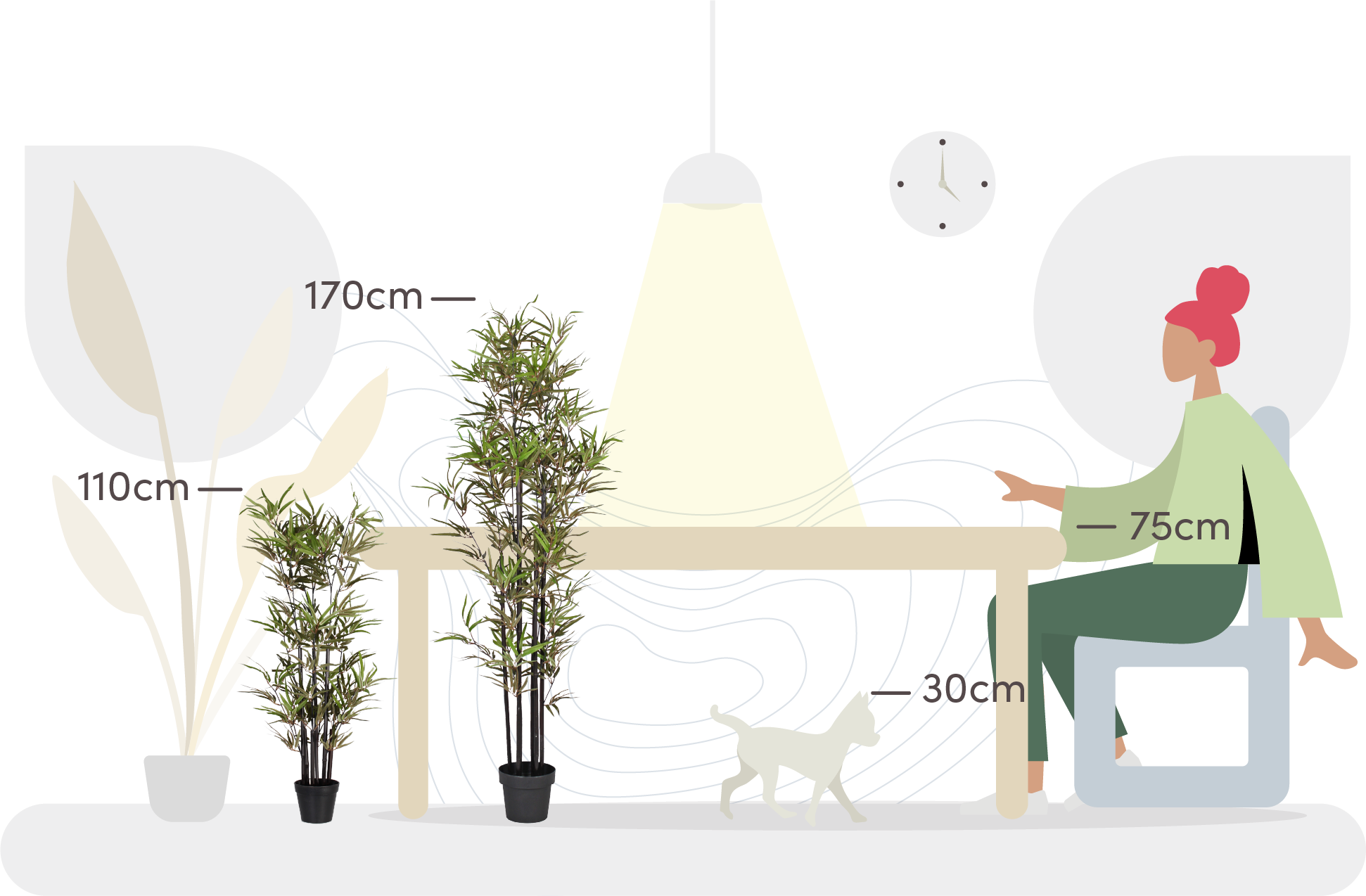 We package our artificial trees nice and tight to keep them safe during delivery. It does mean they can appear a little compressed but don't fret, it's a quick and easy job to bring them to life…
Begin at the bottom of your bamboo and work your way up, pulling and adjusting the harder wired plastic stems into position. Then work open any closed bunches of leaves. If there are any small crinkles, these should drop out over the next week or so.
If you need a hand, give us a bell and we'll guide you, or have a read of our guide to arranging artificial plants.
Look at the details on the product page and check the pot dimensions. We typically suggest adding 2-10cm onto the width and going from there.
Selecting a pot towards the higher end of this range will really improve the plants stability. A top tip if you have small people or pets running around. 😄
If you are still unsure, we'll offer some recommended pots when you add items to your basket. Or just get in touch.
Did you know?
Bamboo is a viable replacement for wood.