Elegant bays to frame your door.
Real wood stem

UV stable

Best-seller
Say ciao to your brown bay tree and hi to a fresh one you can't kill. These elegant artificial bay trees will stand proud outside your front door and give your home an instant dose of curb appeal.
Read more
Delivery information
Our standard delivery service costs £5 (free when you spend £100 £25 in November) and takes between 2-4 working days. Upgraded delivery services may be available based on your location.
Some locations may cost extra and take a little longer. For more information visit our delivery page here.
Returns
If the product isn't suitable or you simply don't like it, you can return it to us for a full refund.
60 days to return the item to us
You will need to cover the cost of returning the item
Use a courier comparison website to get the best price
For further information or to submit a return request, visit our returns page here.
In the unlikely event that the item arrives damaged, please get in touch with our customer service team.
Bay trees in the wild...
Need inspiring? Here are real customer images to help you imagine just how wonderful a bay tree (or two) would look outside your home 😍
Everything you need to know
A rustic natural wood stem with delicate braiding and botanically accurate leaves mean even plant lovers won't spot this fab faux. Plus, being faux means there's no worry of it turning brown or withering away in the winter.
The leaves on our faux bay tree are UV protected so they won't turn blue. Trust us, we put them in our UV testing chamber for the equivalent of three years and they came out looking as good as new!
Add a pair to your front door to beautify your home or pop one in your garden to bring long lasting colour and style that won't succumb to pests or disease.
We have small, medium and tall artificial bay trees to choose from. Available in four sizes from 90cm - 180cm, our stylish lollipop style bay tree can suit every shape and sized entrance. All measurements are taken from the ground to the top of the tree. You can raise the height by popping it in a pre-filled taller pot.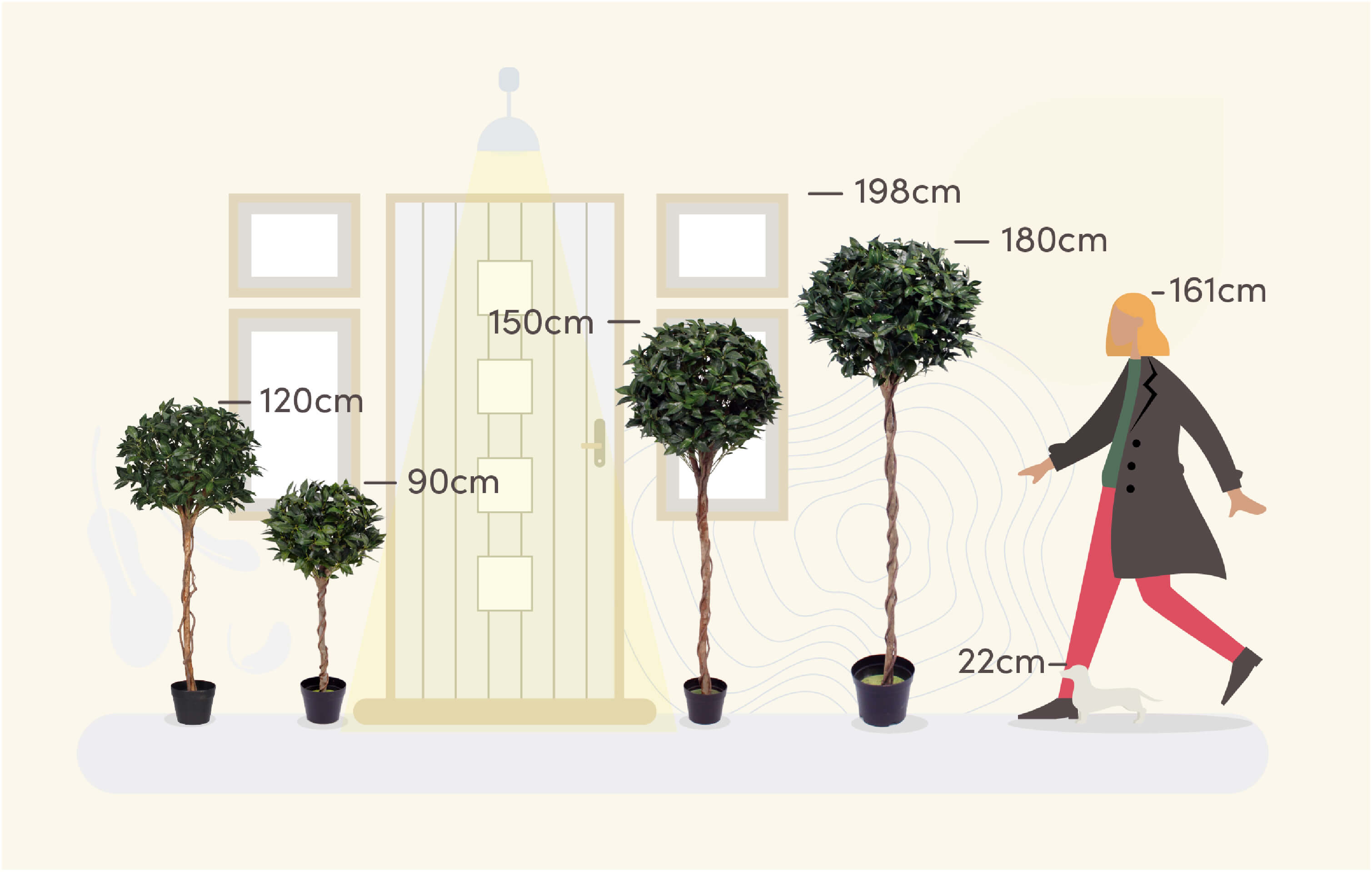 Boxed up artificial bay trees can look a little flat, but it won't take long to bring them to life.
Starting at the bottom of the foliage, work the plastic stems out a little until the overall shape is round. Then, working around the tree, spend a moment opening the groups of leaves.
Leaving your artificial trees to sit in their new home for a few days will see any small creases drop out and the foliage open out fully. If you have any trouble achieving the best look, get in touch and we'll guide you.
These trees, along with most in our range, arrive in a small black starter pot. Help your new artificial tree fit into its new home by pairing it with a suitable plant pot (we'll offer up some perfect options when you add it to your basket).
This step will also add weight and stability. Potting your tree is quick, easy, and only ever needs to be done once.
Pick a suitable pot. Choose one with drainage if the plant is going outside.
Prefill the pot so that the starter pot sits just inside the top of the plant pot.
Pop the tree into the pot.
Fill around the starter pot with earth, sand, or decorative stones.
Our whole range of outdoor artificial topiary trees is UV resistant which extends their lifespan outside. However, there's still a couple of things you can do to ensure your new tree has a happy and long life.
If your tree is potted, rotate it from time to time to ensure any weathering happens evenly. During extreme weather like high winds or prolonged rainfall, try to protect your topiary. This can be moving it indoors or to a sheltered area or protecting it if it can't be moved.
The other, which applies to natural wood topiary trees, is to apply stain to the base of the tree on an annual basis.
For more information, check out our guide to caring for outdoor trees.
Did you know?
The Romans believed that bay trees warded off lightning and illness.