Matched with your front door.
Natural wood stem

Unique

UV stable
Style, elegance, and you'll barely have to lift a finger! Our artificial boxwood single ball tree is the perfect match for a lonely front door or a garden in need of a little more stature.
Read more
Delivery information
Our standard delivery service costs £5 (free when you spend £100 £25 in November) and takes between 2-4 working days. Upgraded delivery services may be available based on your location.
Some locations may cost extra and take a little longer. For more information visit our delivery page here.
Returns
If the product isn't suitable or you simply don't like it, you can return it to us for a full refund.
60 days to return the item to us
You will need to cover the cost of returning the item
Use a courier comparison website to get the best price
For further information or to submit a return request, visit our returns page here.
In the unlikely event that the item arrives damaged, please get in touch with our customer service team.
Caught on camera! 📸
Browse our incredible customer images gallery!
Everything you need to know
Sometimes less is more, right? And that's exactly what you're getting here. Traditional, timeless beauty that won't cave into box blight or pests and is quite happy to be left alone while you get on with your day-to-day life.
This beautiful faux single ball topiary tree has lush multi-tone green foliage and is UV stable making it suitable for use outside. With its real wood trunk and exceptionally realistic features, it works incredibly well as a pair framing your front door or used in a flower bed to add some vertical interest.
So put away the watering can and scissors! There's no need to spend countless hours pruning where this faux topiary is concerned!
Our artificial boxwood single ball tree is available in two sizes, either 120cm (4ft) or 180cm (6ft).
All measurements are taken from the ground to the top of the tree. We're bound to have the right size tree for you. The best part is that unlike the real thing, our faux boxwood single ball tree will never grow out of shape!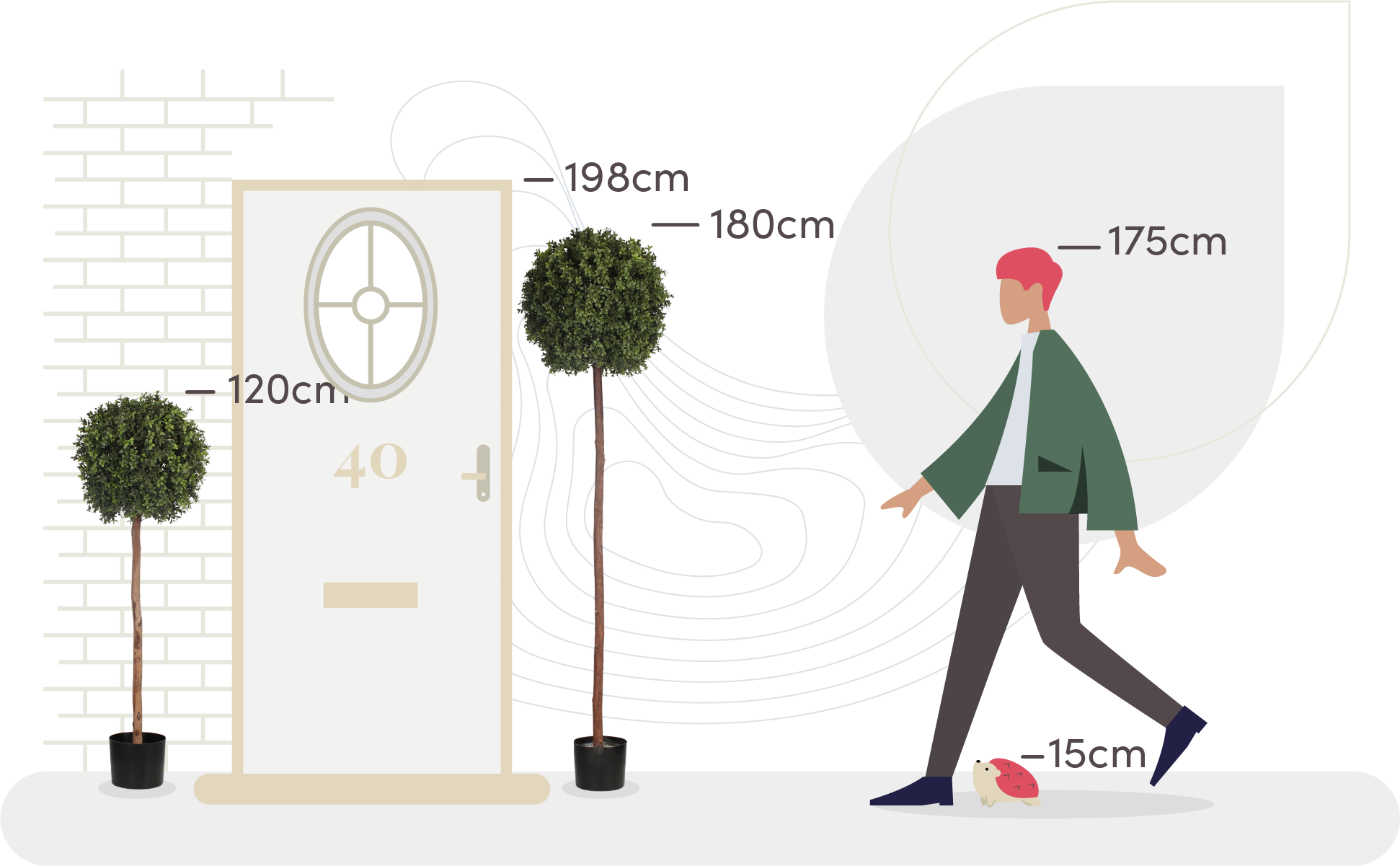 Our artificial trees are designed to be low faff for you, and they will be… trust us! Arranging the foliage sounds complex, but in this case, it's really just fixing up any foliage that was flattened in the box.
To do this, start at the bottom of your tree and gently work the foliage out. Remember that topiary is designed to be tight… so in other words, you don't need to do too much.
If in any doubt, give us a buzz and one of our team will be happy to help. 😊
Look at the details on the product page and check the pot dimensions. We typically suggest adding 2-10cm onto the width and going from there.
Selecting a pot towards the higher end of this range will really improve the plants stability. A top tip if you have small people or pets running around. 😄
If you are still unsure, we'll offer some recommended pots when you add items to your basket. Or just get in touch.
The biggest perk of going faux is the lack of maintenance needed to keep stunning greenery looking its best. There's no watering, pruning, repotting, feeding… the list of jobs is almost endless!
However, there are still a couple of things you can do to help extend the lifespan of your outdoor artificial trees:
Pot or plant your tree with plenty of drainage.
Rotate the tree from time to time to ensure any weathering is gradual.
Treat the base of the stem with a clear wood preserver annually
Protect (or move) the tree when extreme weather hits.
For more information, read our guide to protecting outdoor artificial plants.
If the boxwood single ball tree isn't right for your space, you may be interested in another from our range. View our full range of artificial topiary trees here.
Did you know?
This particular style tree is nicknamed the lollipop tree, though it certainly doesn't taste like one! 🍭