A picturesque cottage garden in a vase. 🏡
Unique

Hand-tied

Low effort
Classic blooms reminiscent of a picturesque cottage garden give this artificial bouquet a touch of vintage style. Everlasting pink ranunculous, mixed with blue cornflowers bring to mind scenic summer strolls down cottage-lined lanes.
Read more
Delivery information
Our standard delivery service costs £5 (free when you spend £80) and takes between 2-3 working days. Upgraded delivery services may be available based on your location.
Some locations may cost extra and take a little longer. For more information visit our delivery page here.
Returns
If the product isn't suitable or you simply don't like it, you can return it to us for a full refund.
60 days to return the item to us
You will need to cover the cost of returning the item
Use a courier comparison website to get the best price
For further information or to submit a return request, visit our returns page here.
In the unlikely event that the item arrives damaged, please get in touch with our customer service team.
Everything you need to know
Delicate, classic and faff-free, our faux cottage garden bouquet is ideal for enhancing any room with its pastel blooms! 🌼
Our florists have carefully selected stunning cornflowers, wild rose sprays, pretty ranunculous, viburnum and Queen Anne's lace stems, to create an arrangement with timeless colour that can be enjoyed year after year with no need to replace it!
Each bouquet is lovingly hand-tied and delivered straight to your door, making it a brilliant lasting gift for your loved one or a treat for yourself to style your interior with enduring colour.
The artificial cottage garden bouquet ususally includes:
4 x cornflower stems
2 x pink ranunculous sprays
3 x wild rose sprays
1 x cream cabbage rose
1 x Queen Anne's lace
3 x green viburnum sprays
3 x green cow parsley foliage stems
From time to time we may need to tweak the contents of the bouquet to maintain availability. Any tweaks will be subtle and won't substantially alter the appearance of the arrangement.
Faux flower arrangements are virtually timeless. With no water or feeding required, these fantastic faux flowers won't wilt or turn brown after just a few weeks.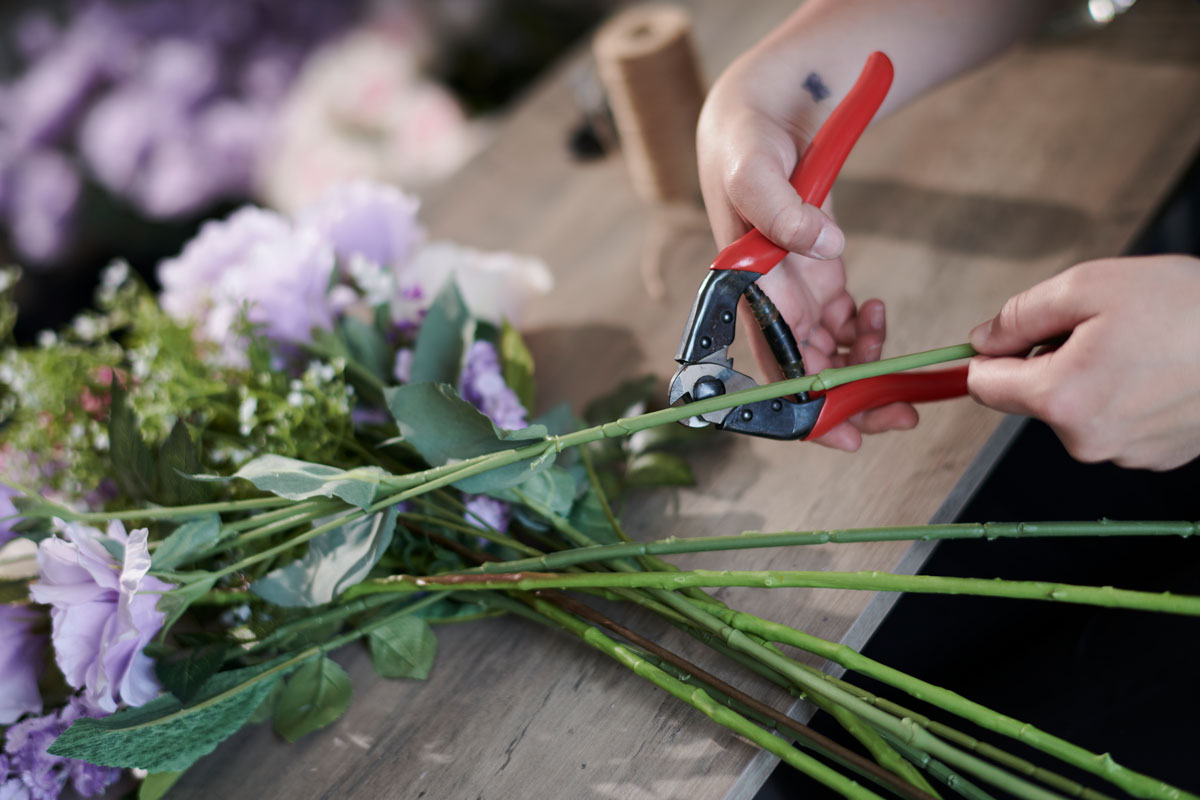 Each stem in your bouquet has an internal wire which is coated in plastic. Depending on the stem, this wire can be fairly lightweight or pretty thick. Thicker wires can be slighter harder to cut.
Measure the height of your vase.
Take the vase measurement and measure from the bottom of the flowers and foliage area towards the bottom of the stem.
Mark the measurement and cut any remaining stem off.
If in doubt, leave the stems a little longer. You can always trim them again.
To cut the stems, we recommend using strong wire cutters. If you don't have any of these to hand use pliers or scissors to score the plastic. Then bend them one way, then the other, which will weaken the wire to the point it breaks cleanly.
For more help, watch our video guide on trimming artificial flower stems.
Faux flower arrangements are both beautiful and need zero maintenance. However there are still a couple of things you can do to keep them looking fresh for years to come.
Don't use them outside
These flowers may be pretty but they're not designed for outside use. We'd also recommend not siting them on windowsils for long periods of time.
Keep them clean
Dust is the enemy of artificial flowers and is a telltale sign of faking it. Fortunately fauxs are easy to clean with a damp cloth or wetwipe. For the more intricate stems, take the arrangement outside and used compress air to blow dust away. You can find our full guide on cleaning flowers here.
Did you know?
When it is cold, ranunculus forms its petals into a cup shape to collect solar energy to warm itself.