Bring a touch of the tropics to your home. 🏝️
Best-seller

Unique

No hassle
The stunning strelitzia is a super-trendy statement plant, ideal for transforming your space into an exotic paradise. Better yet, unlike the natural version, our faux is completely maintenance-free!
Read more
Delivery information
Our standard delivery service costs £5 (free when you spend £100 £25 in November) and takes between 2-4 working days. Upgraded delivery services may be available based on your location.
Some locations may cost extra and take a little longer. For more information visit our delivery page here.
Returns
If the product isn't suitable or you simply don't like it, you can return it to us for a full refund.
60 days to return the item to us
You will need to cover the cost of returning the item
Use a courier comparison website to get the best price
For further information or to submit a return request, visit our returns page here.
In the unlikely event that the item arrives damaged, please get in touch with our customer service team.
Strelitzia floor standing plants in the wild 🌿
Check out how some of our other customers are using our beautiful faux strelitzia.
Everything you need to know
Tall and incredibly lifelike, our stylish faux strelitzia plant is perfect if you want to add some big, bold greenery to your space.
The huge paddle-shaped leaves come in multiple tones of green, with light veins, making it look just like the natural version. With all this bright and beautiful colour comes the freedom of no watering, misting, pruning or re-potting.
Even if you place it in a cold, dark room, this faux exotic plant will be absolutely fine when you come home. Its arching leaves will still be waiting for you when you return, transforming your space with its tropical vibes.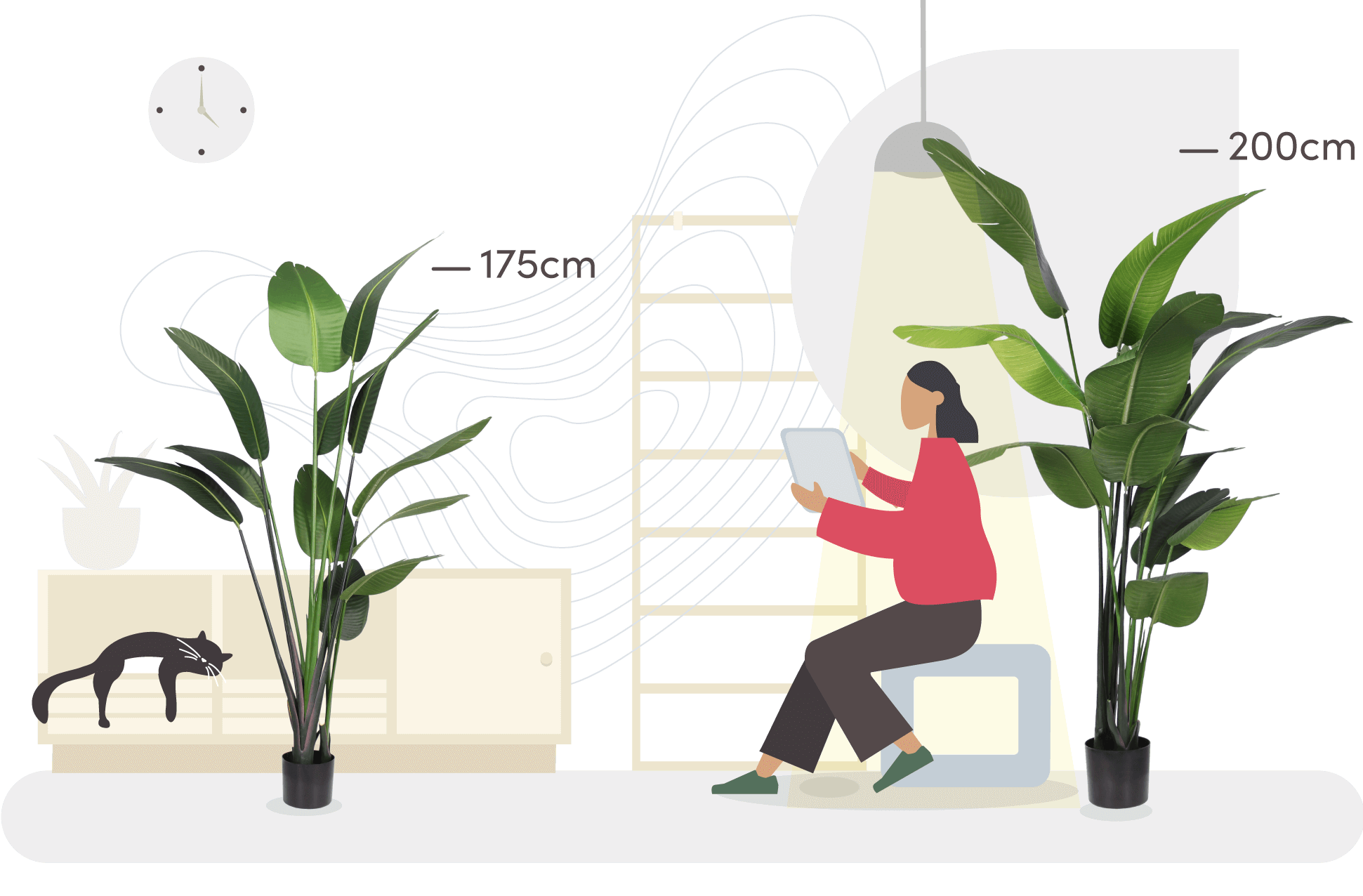 The striking faux strelitzia is available in two sizes, from 175cm (5.7ft) up to 200cm (6.5ft). All measurements are taken from the ground to the top of the plant. You can raise the height by popping it in a pre-filled taller pot.
What care? With no special dietary requirements or demands for sunlight, you can sit back and relax. All we suggest is giving the leaves a light dusting from time to time with a damp cloth.
To maximise the plants lifespan, we don't recommend using it outdoors. It's not UV protected, so may fade, discolour or not get on well with high winds.
For tips on cleaning your faux plant, check out our video below or read our full cleaning guide.
Our faux palms are packaged in a very upright manner. It keeps the palm fronds safe during delivery from our place to yours.
To bring your palm to life, you'll need to arrange these fronds. Sounds complex? Don't worry… it isn't.
Starting at the bottom of the foliage, simply bend each frond out. Aim for a gentle curve rather than a harsh angle for the most realistic final appearance. The fronds are wired so may appear a bit stiff. You can be pretty firm to get the desired bend!
If the strelitzia isn't right for your space or you simply want something even more exotic, maybe one of these artificial exotic plants will fit the bill. Shop our range of exotic faux plants here.
Did you know?
The strelitzia symbolizes freedom, beauty and magnificence.