Cheese plant
Indoor use

Instant colour

No hassle
If you're a lover of houseplants, no doubt you'll have heard all about the cheese plant! This beauty matches its natural counterpart to a tee, with gorgeous glossy split leaves supported by a realistic trunk.
Read more
Delivery information
Our standard delivery service costs £5 (free when you spend £100 £25 in November) and takes between 2-4 working days. Upgraded delivery services may be available based on your location.
Some locations may cost extra and take a little longer. For more information visit our delivery page here.
Returns
If the product isn't suitable or you simply don't like it, you can return it to us for a full refund.
60 days to return the item to us
You will need to cover the cost of returning the item
Use a courier comparison website to get the best price
For further information or to submit a return request, visit our returns page here.
In the unlikely event that the item arrives damaged, please get in touch with our customer service team.
Caught on camera! 📸
Say 'Cheese'! This is how our other customers have styled the cheese plant!
Everything you need to know
Our easy going cheese plant is quite happy to be left to its own devices, while still treating you to beautiful long lasting greenery. With striking big green leaves, its jungalow style can fast transform your space into a tropical paradise, while looking super stylish and anything but faux 😉.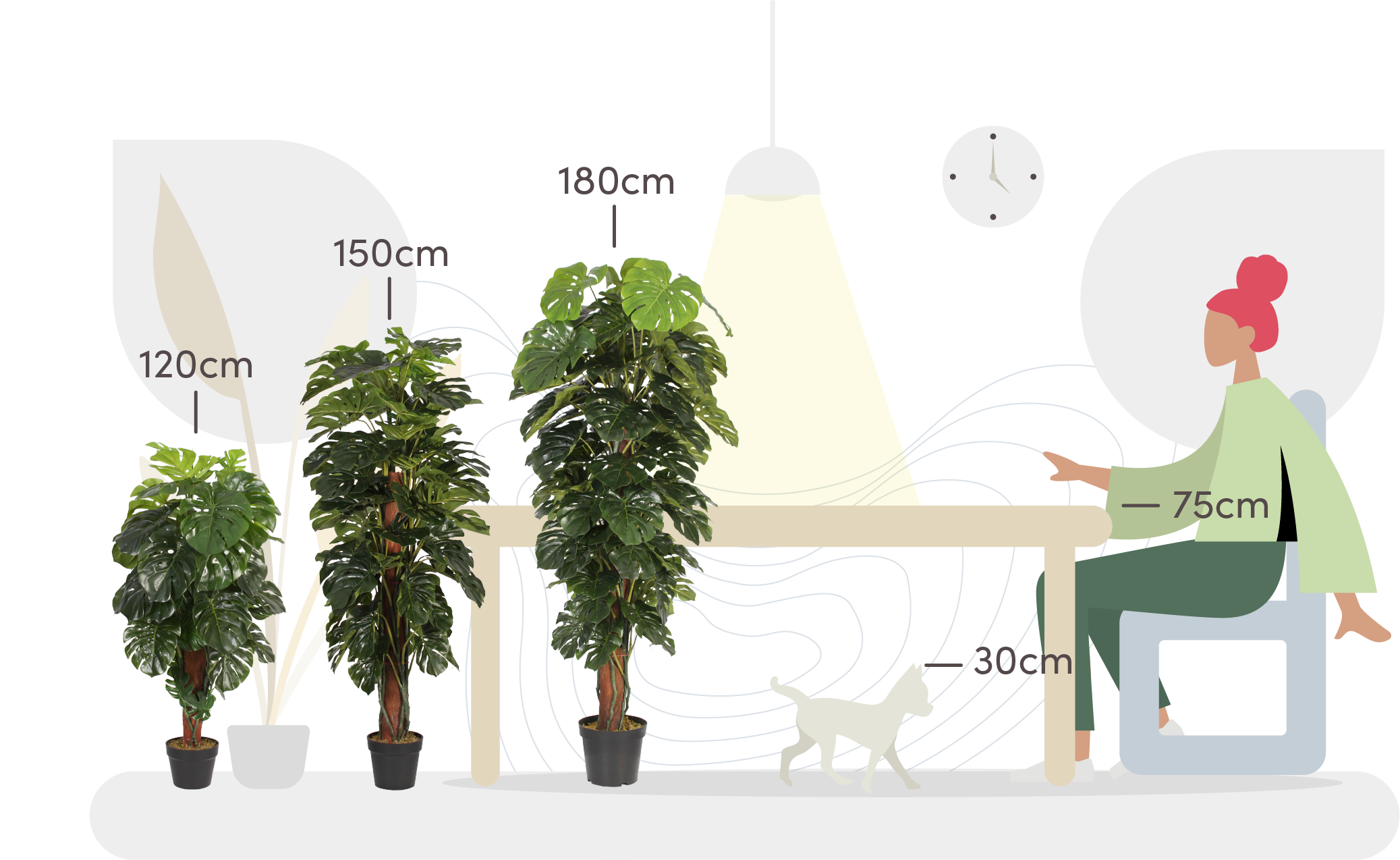 When your new plant friend arrives please make sure to recycle the packaging, but leave the wires or bands around the trunk of your cheese plant!
You'll notice that the foliage needs some arranging to look its best, which can be a little daunting at first, but we're on hand to help! Each frond and leaf can be bent into a more natural position until you're happy with it and any small folds in the leaves will straighten out within a few days. You can be pretty firm when you're bending the leaves out, in the end it should like like our photos above.
When your cheese plant is suited, booted and ready to go into its new home, we recommend giving it a larger pot. Doing so will grant it more stability while adding extra style points!
If you need to add some extra height, you can fill the pot with some stones or soil first.
Sit your cheese plant in your new pot.
Fill in any gaps around the edges with your potting medium
Top with some decorative stones.
Pop the kettle on…
Chances are you're here because you've been through the hassle of a real plant. Welcome to a world of problem free plants! Your artificial cheese plant only asks for a quick wipe down of its leaves every now and then to keep dust at bay.
If the cheese plant isn't right for your space or you simply want something even more exotic, maybe one of these artificial exotic plants will fit the bill. Shop our range of exotic faux plants here.
Did you know?
The cheese plant can grow fruit that tastes like a blend of strawberries, passion fruit, mango and pineapple. Yum! 😋